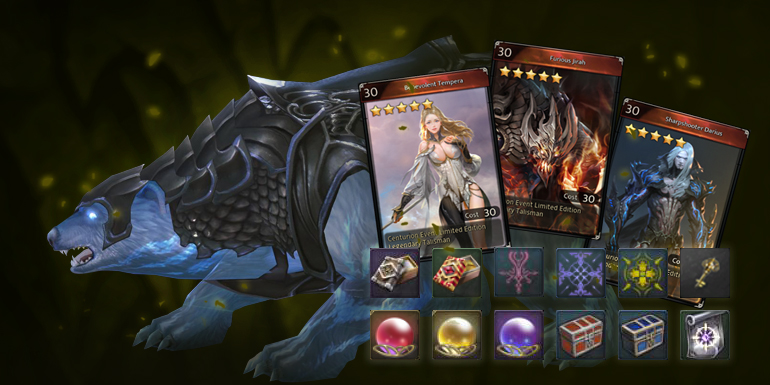 Become the embodiment of a living nightmare with this devilish pack of goods, designed to let every Devilian unleash their true potential. Stacks of talismans, mountains of resistance materials, Patron time, blessings, tears, a ferocious bear mount, and much more await!
30-day Patron Access
750 Credits
30 Enigma Keys
Ethereal Ursus Mount
3 7-day Elara's Blessings
3 7-day Bolton's Blessings
3 7-day Aira's Blessings
10 Gemmed Talisman Boxes
10 Glowing Sacrificial Talisman Boxes
15 Archdevil Dungeon Reentry Tickets
3 Essence Core Boxes
5 Essence Crystal Boxes
10 Ael's Tears
8 Ael's Tears (Pure)
8 Kavel's Tears
Furious Jirah Talisman (More Dungeon XP/Gold)
Benevolent Tempera Talisman (More Abyssal Tower XP/Gold)
Sharpshooter Darius Talisman (Increase Devilian Stats)
Digital Downloads Terms and Conditions
This game is a digital download of software only; Trion will not send you anything. This software will need to be downloaded to your computer, but no physical box, discs or other materials will be provided to you. You must download the game's files to each machine on which you wish to play this game. The download and use of this game is subject to the End User License Agreement, Terms of Use , and Privacy Policy.
This is an Internet-only game which requires players to connect to Trion servers via their own Internet connections. Players are responsible for their own Internet connection service and all Internet-related fees.
Trion Worlds does not ensure continuous or error-free access, use, or availability of any game content, feature, gameplay, or server and may change, modify, disable, suspend, or remove any such content, feature, gameplay, or server at its sole discretion.